Many of you know how much I love my Lambrini, on a night out its Lambrini; at a house party, "Lambrini", family events "Lambrini…" graduation "Lambrini" Christmas morning "Lambrini" Yap, Its my champagne.
From the cherry to the original sparkle and peach as well as the summer cider Lambrini has newly started promoting! YUM!
I have been creating lovely concoctions for numerous occasions. Many of my friends just love them. If having a horrible day, they know the drill to turn up with a bottle of Lambro (Yeh we are at nickname terms now…) and pizza! When your true friends know that all you need is a night in, you know who they are!
I have put together a few fantastic tester cocktails I have made, or as I say here are a few fun Punk Rock Princess Lambrini cocktails to add a little extra zing to your night! (Or day…)
For all of these cocktails, you will need a least a
Glass (WINE or CUP, whatever you please)
Lambrini (Obviously)
It all depends on the volume you want! So go crazy! It all mixes lovely!
Orange Ocean Oscar
Normal sparkling Lambrini topped to half a wine glass
2 table spoons of lime squash
Slice of lemon – (Drop it in)
Slice of Orange- (Again drop it in)
A touch of Fanta
Crushed ice to make it snazzy and cool
Cranberry (Cray Cray) Blossom
Lambrini sparkle
Cranberry Juice
Touch of Tonic water
Finishing with a squirt of apple and cranberry squash.
Lemon Limelight with a Lemon
Lambrini normal, half a small wine glass
A small cup of fresh Lemon juice
Lime cordial
Tonic water
Limeade to finish it off
With a lemon slice
(Nice to add an extra squeeze of lemon) Minus the pips… no one likes the pips…
James and the Giant Strawberry
Lambrini Strawberry – half a glass
Orange Squash
Tonic Water
Slice of Peach
Crushed Ice
Touch of Peach Juice
Cha Cherry Ching
Half a glass of Cherry Lambrini
Apple & Raspberry tonic water
Slices of strawberries & Apple in the bottom
Sprinkle of sugar around the sides of the glass (Margarita style)
Cherrie soda (Small top off)
Winter Woopies!
Cherry Lambrini
Tonic Water
Fanta
Lemon Slice
Crushed Ice
Bubble Gummies
Normal Lambrini (Half a glass)
Bubble gum flavoured soda (quarter)
Orange Squash
Bubble gum… (when drinking…. Good taste) Hubba Baba
Cream soda top off.
To make it more exciting, add a scoop of ice cream to make a lambrini coke float! Tasty
Bright Bubbles
Lime Cordial
Lambrini
Lemon juice
Slice of Lemon
A small bit of crushed Ice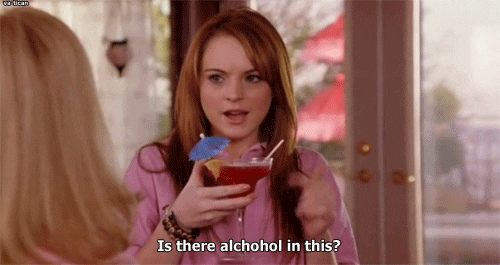 Tropicana colours
Normal Lambrini
Orange and Raspberry Juice
Orange Squash
Lemon Cordial
Lemon Slice
Lambrini Float
Normal Lambrini
Vanilla Ice Cream
Strawberries
(Sounds strange but is pretty amazing!)
ONE MORE THING!
Drink Responsibly….. with style
Show me your cocktails, creativity and tasters! Always interested!
Now go and have a ball! It's not going to drink itself.
BTW 18 OVERS, PEOPLE! DON'T DRINK AND DRIVE