Overcooked is a cooking game for 1-4 players. You and your fellow chefs must work together to prepare, cook, and serve a variety of delectable orders before the baying customers storm out.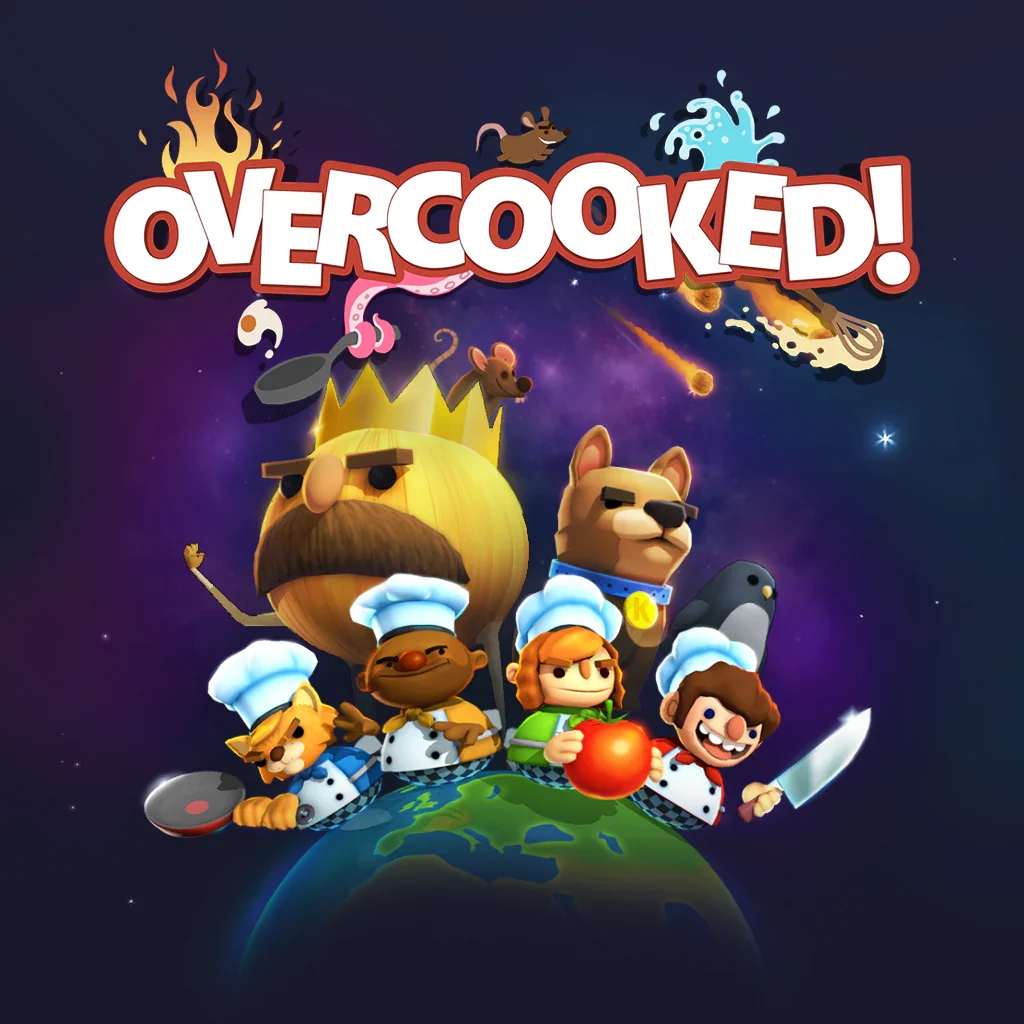 Take part in an exciting journey through the Onion Kingdom, where you'll face an increasingly complicated and bizarre gauntlet of kitchens that will test your ability to cooperate and coordinate.
Too many chefs, as the saying goes, spoil the broth. With just two people working on this couch co-op cooking game, Ghost Town Games may have considered this when creating its debut indie effort, Overcooked.
Overcooked is a lighthearted cooking game for 1-4 players. Work with friends to run a smooth kitchen, cook dishes, and serve them against the clock. In a whimsical setup, the Ever Peckish, a giant spaghetti and meatball creature, attacks the Onion Kingdom. Sharpen your cooking and cooperative skills by filling orders in kitchens worldwide with unique challenges.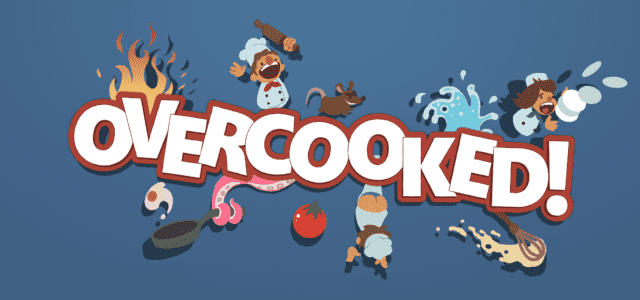 The gameplay in Overcooked is fast-paced and visually stunning. Orders pop up in the top left corner, and you must swiftly prepare the ingredients, assemble them on a plate, and serve them. Quick delivery earns you more points, while failing to serve on time results in point deductions.
The difficulty level stays the same because goal scores increase as the number of games increases. On a level, having three stars necessitates pace, accuracy, and, most importantly, cooperation. Overcooked, maybe more than any other PlayStation 4 game, demands that you coordinate and interact. If you do anything less, you should kiss your high scores goodbye.
You can play Overcooked alone, but adding an extra player in multiplayer mode makes a significant difference. With more players, you can divide the workload efficiently, with one chopping ingredients, another preparing, someone serving, and another handling dishwashing. Effective communication ensures orders flow smoothly out of the kitchen. Overcooked multiplayer, cooperative gameplay, division of responsibilities, communication, efficient teamwork.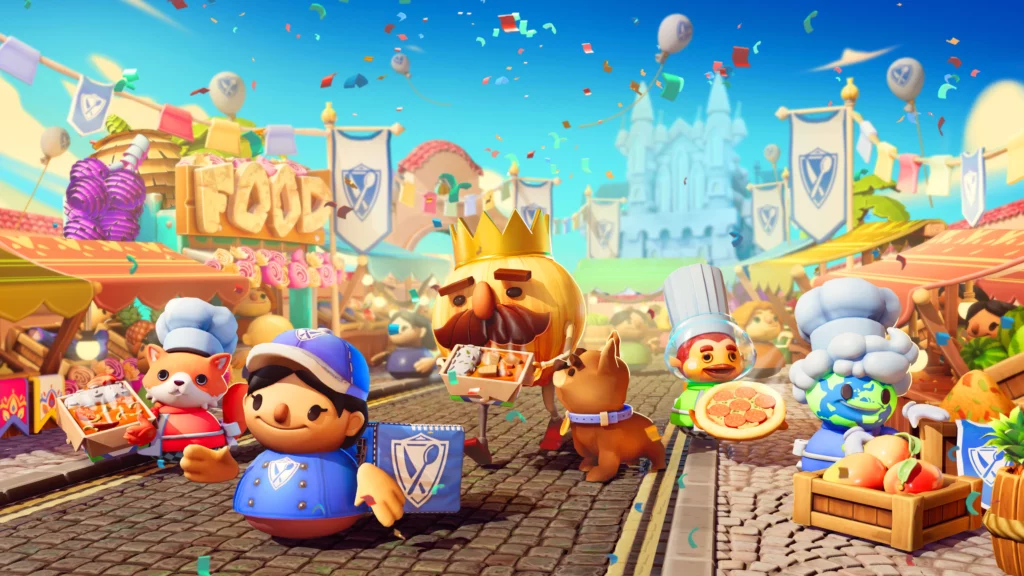 While efficiently filling orders is beneficial in Overcooked, part of the fun lies in the chaos that ensues when things go wrong. Leaving burning food unattended can quickly ignite a fire in the kitchen, forcing you to divert attention and extinguish the flames. This wastes time and ruins the dish, resulting in financial loss. Although it can be frustrating, it often leads to humorous moments, and most of our time is spent laughing rather than arguing over who is at fault.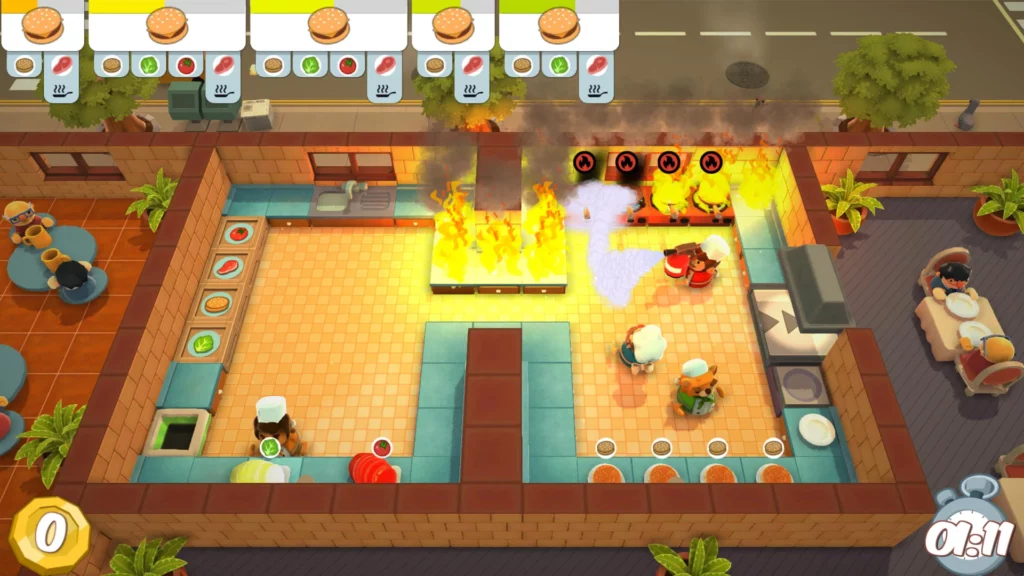 You begin your culinary journey in traditional kitchens, making soup and burgers. But as you progress, the game takes you to snowy zones, haunted forests, and outer space, each introducing new recipes to learn. The levels become increasingly complex with rotating work surfaces, pesky rats, and conveyor belts.
There are 30 kitchens to conquer, and your success is measured by the number of stars you earn. The game features a beautifully presented overworld map, where you can freely drive around. Remember, collaboration is key as every successful player gets control of the van. Culinary journey, diverse locations, new recipes, challenging levels, star rating, collaborative gameplay.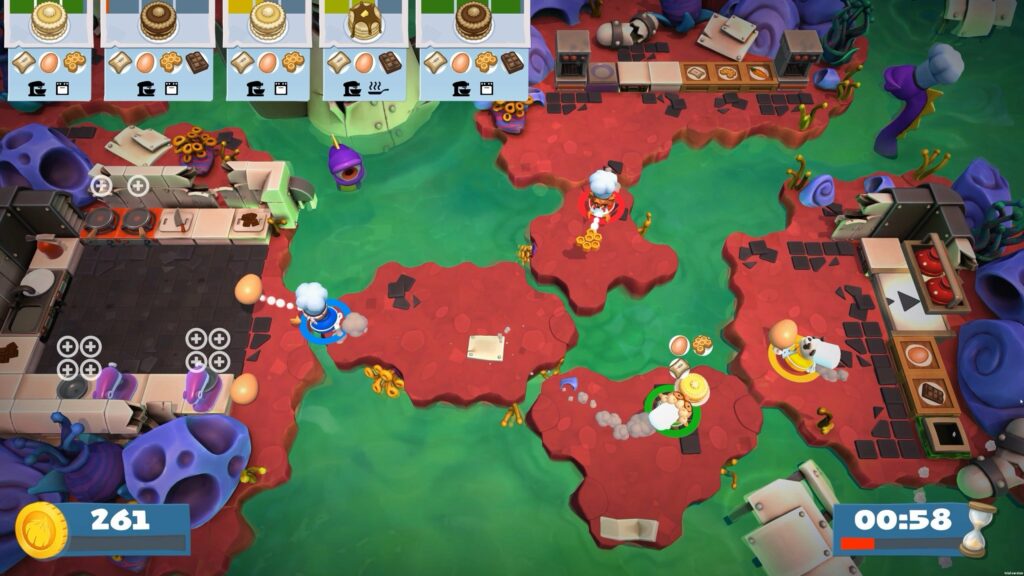 The game's overall appearance is characterized by a pleasing, cartoony art style that perfectly complements its casual nature and easy-to-understand gameplay. The simplicity of the controls allows players of any skill level to join in and have a good time.
A notable feature is the ability to share a controller by breaking the DualShock 4 in half, making it convenient for situations where there aren't enough controllers available.
In terms of performance, the game runs at a generally smooth frame rate of 60 frames per second, although there may be occasional dips in performance. Additionally, as the overworld fills in, navigation can become a bit slower.
Overall, the game offers an accessible and enjoyable experience with its engaging art style, user-friendly controls, and satisfactory performance.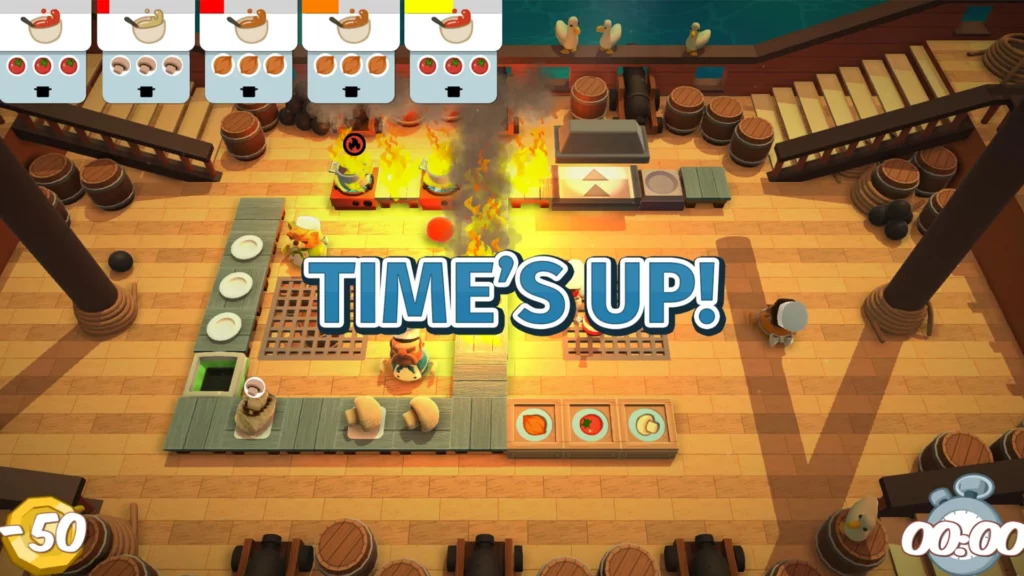 As you progress through the key co-op stages and competitive kitchens, you'll unlock new chefs to use in the game. These chefs add variety and new gameplay experiences to your Overcooked adventure.
If you're looking for a change of pace from cooperative gameplay, Overcooked offers a versus mode where you can compete against other players. In specially built levels, two teams compete to score the most points in the shortest amount of time. This competitive mode provides a fun alternative and extends the replayability of the game.
One notable aspect of the versus mode is that there are no level previews for the versus groups, which may seem a bit strange considering that you get a sneak peek at each co-op kitchen before playing. Nevertheless, the gameplay in versus mode remains similar to the cooperative mode, providing a familiar yet exciting experience.
Overall, Overcooked offers a variety of gameplay options, allowing you to work together or compete against others, providing endless fun and challenges even after completing the campaign.