Peppinos in St. Julians is the ultimate dining destination that combines savory flavors with a pocket-friendly vibe! Nestled by the beautiful Spinola Bay, Peppinos has been delighting taste buds for over two decades.
With its ample windows, Peppianos bathes its guests in natural light. Spread across three stories, the restaurant exudes a cozy yet refined ambiance. The top-floor lounge offers a panoramic view of the charming bay and the vibrant life of St. Julians below.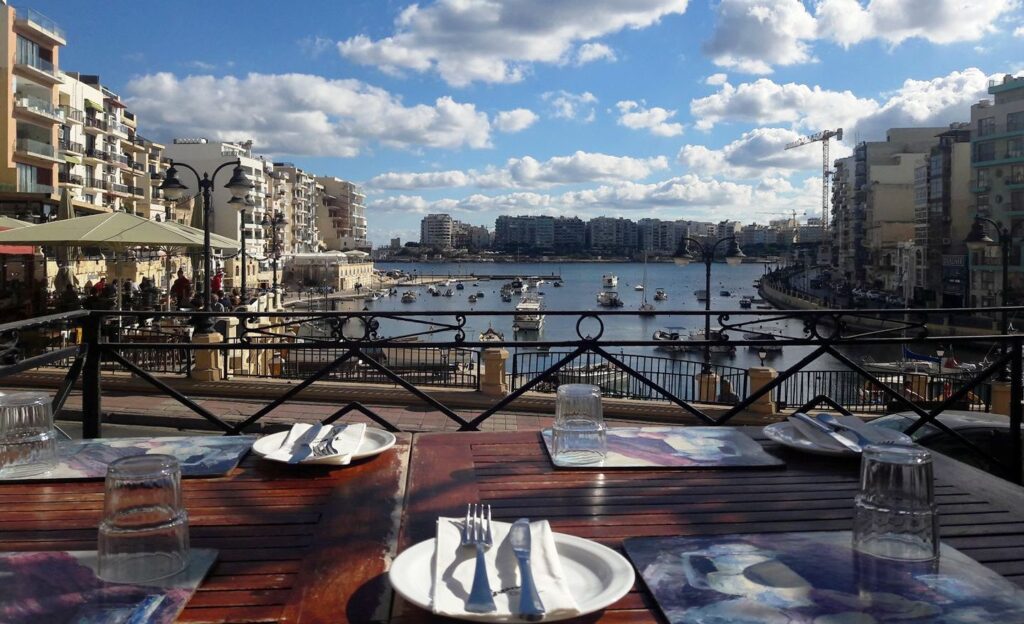 While we savored a bottle of house wine on the top floor as the sun set, the attentive and friendly waitstaff ensured our dining experience was top-notch.
Starters
Peppianos' starters selection is a diverse array of dishes, catering to various tastes. I opted for the steamed mussels with wine and garlic, a delectable delicacy that marries perfectly with the wine and garlic infusion.
My companion chose the crispy battered calamari, fried to a delightful golden crunch—a true treat. The portions were generous, a feature I appreciated!
Mains
Choosing our main course was a challenging task, but I eventually decided on the steak with thin potato slices, accompanied by a wild rocket and tomato dish, and roasted vine tomatoes.
My steak, ordered medium, arrived cooked to perfection, with all the accompaniments au gratin, and a generous serving of pepper sauce.
My dining partner selected the Baked Caprese Chicken, featuring seasoned Italian chicken breast, sweet oven-roasted tomatoes, savory balsamic vinegar, and melted mozzarella cheese, served with a side of mashed potatoes.
We left Peppianos satiated and impressed, with nothing but praise for the quality of the meal and the overall dining experience. It's advisable to make reservations in advance as tables tend to fill up quickly.
Don't just take our word for it—other patrons are raving about Peppinos too! From food to ambiance to service, it's all top-notch.
Amy S (Reviewed 1 week ago): "Absolutely brilliant!! Brilliant food and really lovely staff!! My friends and I had a fantastic evening, couldn't recommend more!"
sampG2722FE (Reviewed 3 weeks ago via mobile): "Date night in Malta. We were on date night in Malta, and the concierge/host asked us if we were in love and we said yes. He ended up giving us the private patio table for 2 overlooking the harbor. This was a secluded, private, romantic, and picturesque spot perfect for dining."
soozaylewis (Reviewed 3 weeks ago): "Seafood platter. We had the seafood platter & it was fantastic! All the seafood was perfectly cooked. Was fab experience."
stellal900 (Reviewed 3 weeks ago via mobile): "Faultless. Amazing setting, breathtaking views, stunning fresh food and personable, brilliant waiters. I believe Trago or Drago? Was looking after us, he was hilarious and could answer any question surrounding the local area etc. The seafood was beautiful and tender, and you could just taste the…"
Karmen L (Reviewed 3 weeks ago via mobile): "Best restaurant in the city! Best dinner in the city! Best view! Best hostess! (She gave us the best table on the 2nd floor balcony)! Best waiter, he was so nice to us! And the food was great! Thank you! You made our night perfect! :)"
For an unforgettable dining experience in St. Julians that won't break the bank, Peppinos is the spot. And keep an eye on their website for exciting updates and events! Peppinos – where taste meets affordability!
Service Options
Address
Hours
Phone
Dine-in · Takeaway · Delivery
65 St George's Road, St Julian's
Tuesday: 11 am–12 am
2137 3200
Wednesday: 11 am–12 am
Thursday 11 am–12 am
Friday: 11 am–12 am
Saturday: 11 am–12 am
Sunday: 11 am–12 am
Monday: 11 am–12 am