Located at the heart of the largest fish market in Malta and the charming village of Marsaxlokk, Harbour by Johann is a hidden gem that caters to seafood lovers and more. With its fresh fish dishes, delightful staff, and picturesque setting, this restaurant offers an unforgettable dining experience.
Upon entering Harbour by Johann, you'll be greeted by a warm and welcoming atmosphere. The staff's friendly and attentive nature adds a special touch to the dining experience, making you feel right at home. From the moment you arrive, their dedication to providing excellent service shines through.
Now, let's dive into the star of the show—the food! Harbour by Johann specializes in locally caught fish dishes but also offers a variety of pasta and meat options. The menu showcases a creative fusion of flavors, with each dish expertly prepared to tantalize your taste buds.
For starters, the black sepia arancini and fish croquettes come highly recommended, providing a scrumptious introduction to your meal. The freshness and quality of the ingredients truly shine through, leaving you wanting more.
Moving on to the mains, the baked salt-covered meagre and other fish dishes take center stage. Each bite is a delightful symphony of flavors, as the moist and perfectly cooked fish is complemented by a selection of accompanying ingredients. The shrimp and pistachio pasta is a standout dish, offering a divine combination of textures and tastes.
Aside from the exceptional food, Harbour by Johann offers a picturesque location right by the sea. The views add to the overall ambience, creating a truly enchanting dining experience. It's the perfect place to unwind, enjoy good company, and savor delicious meals prepared with passion.
Whether you're a seafood enthusiast or looking to explore culinary delights in a scenic setting, Harbour by Johann is a must-visit destination. From the fresh fish options to the delightful staff, this restaurant exceeds expectations and leaves a lasting impression.
So, if you find yourself in Marsaxlokk, make sure to stop by Harbour by Johann at 144 Xatt is-Sajjieda. Their hours extend until 10 pm, offering ample time to indulge in their culinary creations. For reservations or more information, you can reach them at 9946 1651.
Embark on a fin-tastic journey and treat yourself to a dining experience that combines delectable cuisine, excellent service, and a delightful seaside setting. Harbour by Johann promises to make your taste buds dance with joy. Bon appétit!
| Name | Harbour by Johann |
| --- | --- |
| Location | 144, Xatt is-Sajjieda, Marsaxlokk, Malta |
| Contact | 9946 1651 |
| Email | harbourbyjohann@outlook.com |
| Open now | Yes |
| Services | Dine in, Outdoor seating, In-store collection |
| Price range | £££ |
| Rating | 4.5 (226 reviews) |
| Free Wi-Fi | Yes |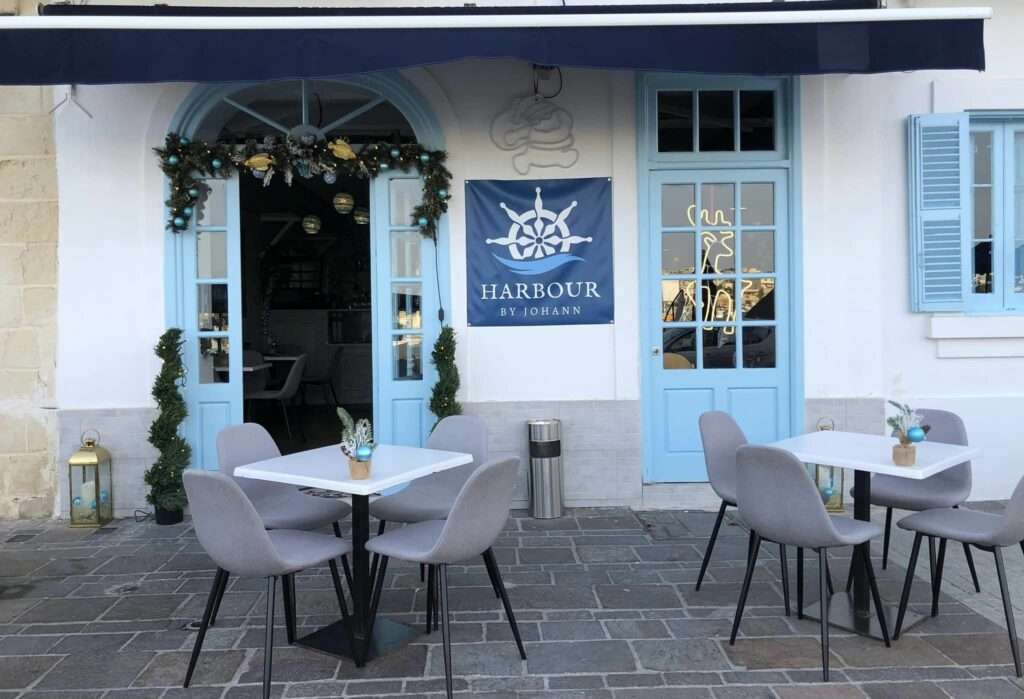 | Day | Opening Hours |
| --- | --- |
| Monday | CLOSED |
| Tuesday | 12:00 – 16:00 |
| | 19:00 – 22:00 |
| Wednesday | 12:00 – 16:00 |
| | 19:00 – 22:30 |
| Thursday | 12:00 – 16:00 |
| | 19:00 – 22:30 |
| Friday | 12:00 – 16:00 |
| | 19:00 – 22:30 |
| Saturday | 12:00 – 16:00 |
| | 19:00 – 22:30 |
| Sunday | 11:30 – 16:00 |
| | 17:00 – 22:00 |
Please note that the restaurant is closed on Mondays, but it operates on different hours on other days of the week.
---
The Menu
At Harbour by Johann, you can expect a delectable array of locally caught fish dishes that showcase the best of Malta's seafood offerings. The restaurant takes pride in sourcing the freshest fish from the Mediterranean Sea, ensuring that each dish is prepared with utmost care and expertise.
Some of the fish varieties you may find on their menu include:
Meagre (also known as Corvina): A succulent and delicate white fish with a mild flavor, perfect for grilling or baking.
Sea Bream: A popular Mediterranean fish with tender and flavorful flesh, often served whole and grilled to perfection.
Swordfish: A firm and meaty fish, ideal for grilling or pan-searing, known for its rich flavor and versatility.
Tuna: A prized fish that offers a robust and meaty taste, often served as tuna steaks or in sushi and sashimi dishes.
Octopus: A tender and flavorful seafood delicacy, usually grilled or braised to achieve a delightful texture.
Squid: Tender and mild-flavored, often served in various appetizers or as a main course in dishes like calamari.
Cuttlefish: Similar to squid, cuttlefish has a slightly sweet flavor and is often prepared grilled or in seafood stews.
Harbour by Johann's commitment to using locally sourced fish ensures that each dish is not only delicious but also reflects the authentic flavors of the Mediterranean Sea. So, whether you're a seafood enthusiast or a culinary adventurer, you're sure to find a delightful fish dish that will leave you craving for more.
---
The History
Located at the heart of the largest fish market in Malta and the charming village of Marsaxlokk, Harbour by Johann not only offers a delightful dining experience but also boasts a rich history that adds to its allure.
Marsaxlokk, with its picturesque harbor and vibrant fishing community, has a long-standing tradition of fishing and seafood. It has been the home of fishermen for centuries, sustaining the village with its bountiful catch from the Mediterranean Sea.
Harbour by Johann pays homage to this fishing heritage by being situated in such a significant location. The restaurant stands as a testament to the deep-rooted connection between the village and its seafaring roots.
Over the years, the restaurant has evolved, offering a menu that celebrates the best of locally caught fish, prepared with precision and expertise. The culinary journey at Harbour by Johann reflects the history and traditions of the village, bringing together flavors and techniques that have been passed down through generations.
Today, Harbour by Johann stands as a beacon of culinary excellence, providing a unique dining experience that combines the freshest seafood with innovative culinary concepts. With each dish, they strive to preserve the essence of Marsaxlokk's fishing heritage while infusing it with modern touches that excite and captivate the senses.
Whether you're a local or a visitor from afar, dining at Harbour by Johann allows you to immerse yourself in the rich history and vibrant culture of Marsaxlokk. It is an opportunity to appreciate the village's deep-rooted connection to the sea and indulge in the flavors that have sustained generations.
As you savor the delectable dishes, take a moment to appreciate the fishermen who have braved the seas, the vibrant fish market that has been the lifeblood of the village, and the culinary artisans who bring these flavors to life at Harbour by Johann.
So, come and experience the history and heritage of Marsaxlokk at Harbour by Johann. Indulge in the freshest seafood, be captivated by the charm of the village, and create lasting memories in this remarkable seafood haven.