As some of you may already know, I'm not a huge fan of reality television. That's a fib, and I still don't get it. I'm not very bright, especially when it comes to languages and humor (which is always crud). These days, however, I can't get enough of MTV's Geordie Shore; it's pure, unadulterated entertainment. Simple, corny, and always a surprise. Consequently, I have compiled a list of the most memorable lines from the show's premiere to the present day. The people I went out with always spoke about it,
A little help with the Newcastle slang· Nee – no· Dee – do· Gan – go· Divvin' – don't · Doon – down· Toon – Newcastle city center and Newcastle United FC· Propa – very, really or significantly· Owa – over· Neet – night· Us – me.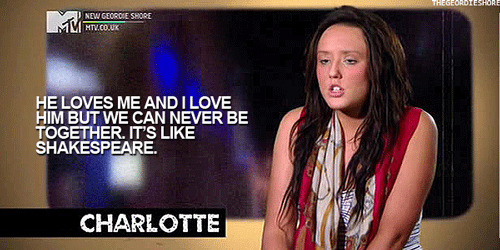 "he'll wine ya, he'll dine ya, he'll sixty-fuckin'-nine ya." –(Vicky)
"On a scale from 1 to 10 I'm 4,5 percent fit and 6,5 percent fat! Oh shit, that's 11! "-(Charlotte)
"We're having a mint time in Amsterdam… I've always wanted to be in Germany" –(Scottie T)
"You need to forget about the parsnip and feel them real Mexican coconuts. "-(In cancun,shopie)
"I love it when Jay's drunk. He's like a big, clumsy, silverback gorilla" –(Charlotte)
"Never go to the toilet with a scorpion, it's just a bad idea" – (Charlotte)
"The lasagne is looking a bit brown, I'm wondering if Joel's got his fake tan mixed in by mistake" –(James)
"All I know is once I've finished with these Australian girls, Bondi Rescue's phone is gonna ring off the hook." – (Gaz)
"He looks like f**king Crocodile Dundee gone wrong and he smells like the horse he rode in on." – (James)
There you have it; if you haven't managed to catch the series, be sure to check catch-up and updates on MTV or follow their page! It will super make you laugh!
The ups, downs, fights, adventures, experiences, and newcomers! There is always something! As they say, booze, tashing, banging, and banter – "Let's get f***ing mortal!" – Still don't get why it's called that….?