So flavour, texture, and the overall loving experience are all a part of food! Ohhhhh! But do you prefer savoury to sweet foods, such as pineapple on pizza?
I've provided a selection of amazing watermelon-based recipes that you must try.
Watermelon Fries With Coconut Lime Dip | Gluten-Free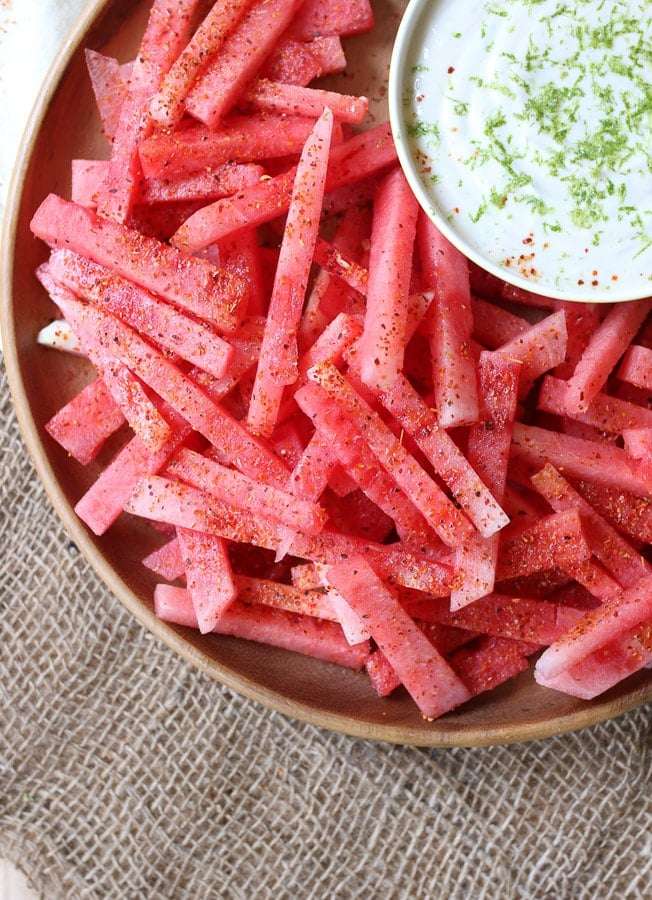 Ingredients
1 watermelon, rind removed and cut into long fry-like shapes
2 tsp Tajin Classic Seasoning
Dip: | 1 cup coconut yogurt |
| Zest and juice of 1 lime |
| 1 tbsp coconut sugar (or to taste) |
Instructions:
1. In a bowl, combine yogurt, lime juice, and zest with coconut sugar. Set aside.
2. On a plate, scatter watermelon fries and sprinkle Tajin Classic Seasoning.
3. Serve with the prepared dip and relish in the delightful combination of flavors!
4. Enjoy your BBQ bliss with these unique watermelon fries.
---
Watermelon Cupcakes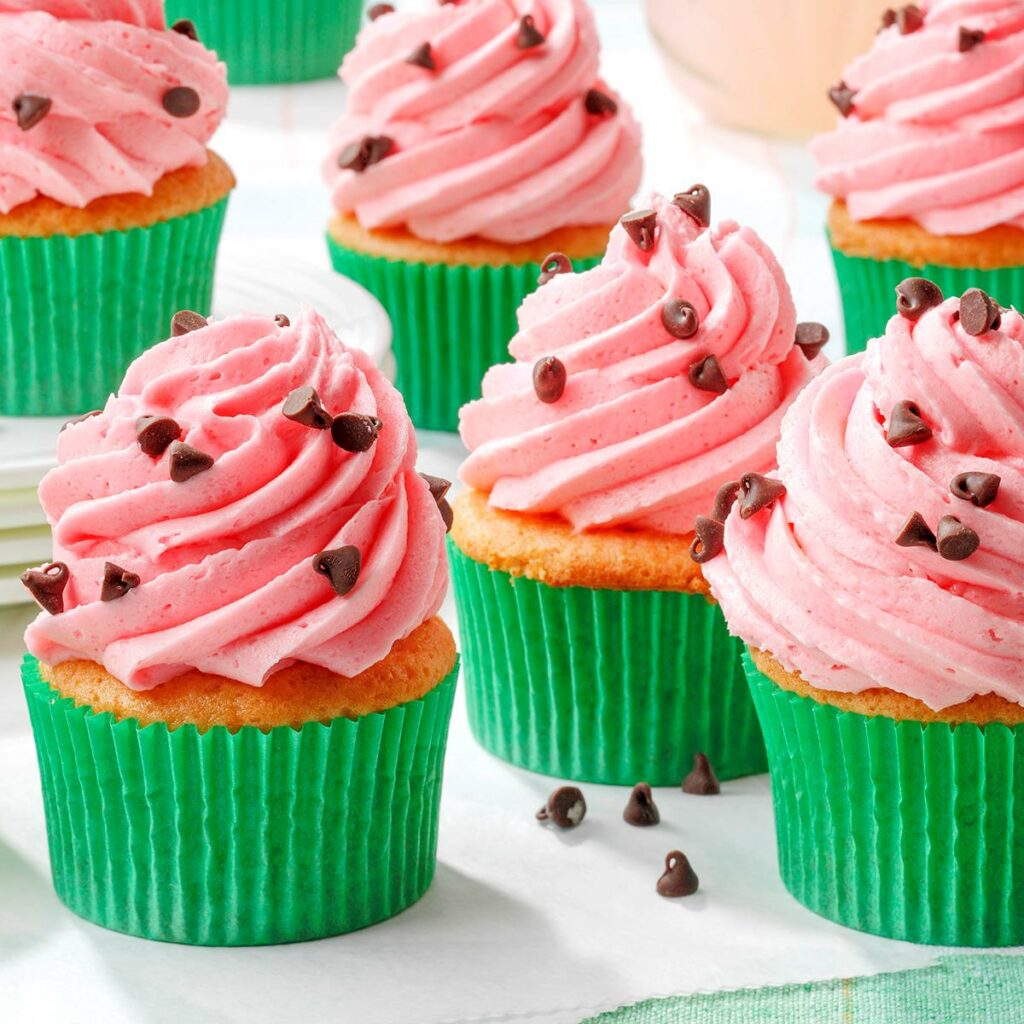 Ingredients
1 box of white cake mix
1 1/4 cups pureed watermelon, divided
1/2 cup vegetable oil
4 egg whites
A few drops of pink food coloring (optional)
1/2 cup butter, softened
2 cups of powdered sugar
Instructions:
1. Preheat oven to 350 degrees.
2. Line 2 (12-count) muffin tins with paper liners and set aside.
3. In a large mixing bowl, beat white cake mix, 1 cup pureed watermelon, vegetable oil, and egg whites with an electric mixer. Beat in a drop or two of pink food coloring.
4. Pour batter into prepared muffin tins and bake for 19 to 21 minutes or until a toothpick inserted in the middle comes out clean.
5. Allow cupcakes to cool in the tin about 10 minutes before removing them to wire racks to finish cooling.
6. Meanwhile, in a mixing bowl, beat butter, remaining 1/4 cup pureed watermelon, and powdered sugar until blended. Add more watermelon if the frosting is too thick or more sugar if it's too thin. Beat in a drop or two of pink food coloring.
7. Frost cooled cupcakes with Watermelon Frosting.
8. Store in the refrigerator when not enjoying.
---
Low Carb Watermelon Mousse
Ingredients:
8 ounces softened cream cheese
8 ounces Horizon Organic sour cream
8 ounces seedless watermelon
8 ounces Horizon Organic heavy whipping cream
Pinch of salt
Optional: Watermelon liquid stevia to taste
Optional: Natural red food coloring or pomegranate juice
Optional "Seeds":
– 1/2 cup raw pumpkin seeds
– 2 ounces sugar-free or dark 85% chocolate
Instructions:
1. Place the softened cream cheese, sour cream, and seedless watermelon in a food processor. Process until smooth. Add natural food coloring if desired.
2. Taste the mixture to check sweetness. If needed, add your favorite sweetener. (e.g., 1/2 teaspoon watermelon liquid stevia). Set aside.
3. In a stand mixer, blend the heavy whipping cream on high until stiff peaks form. Add a pinch of salt.
4. Gently fold the whipped cream and watermelon mixture together until just combined.
5. Pipe the mousse into serving dishes and refrigerate for 2-3 hours or overnight.
6. Optional: To make "seeds," melt chocolate in the microwave, stir until smooth. Drop pumpkin seeds into chocolate, coat them, then remove with a fork. Place seeds on a parchment-lined baking sheet to dry.
7. When ready to serve, place some "seeds" onto each serving of mousse.
8. Enjoy this delightful watermelon mousse!
---
Home-Made Fruit Roll-Ups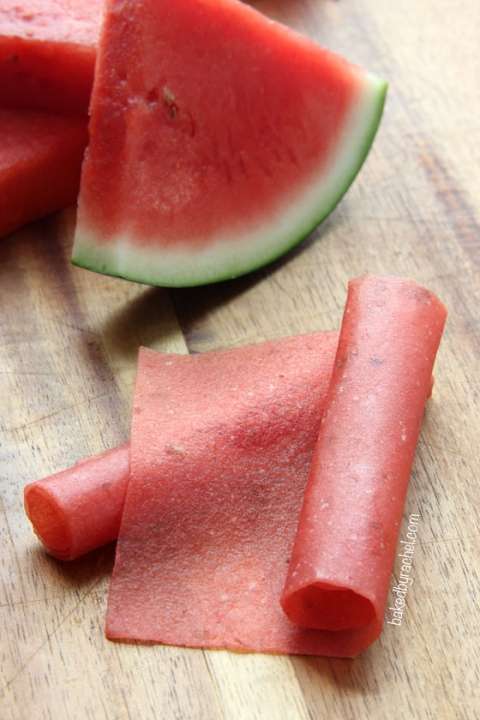 Ingredients:
2 cups strawberries, chopped
1 cup applesauce
Instructions:
1. Preheat the oven to 175 degrees F.
2. Remove the tops from strawberries and cut them into chunks. Add the chunks to a food processor and rough chop.
---
Watermelon Sorbet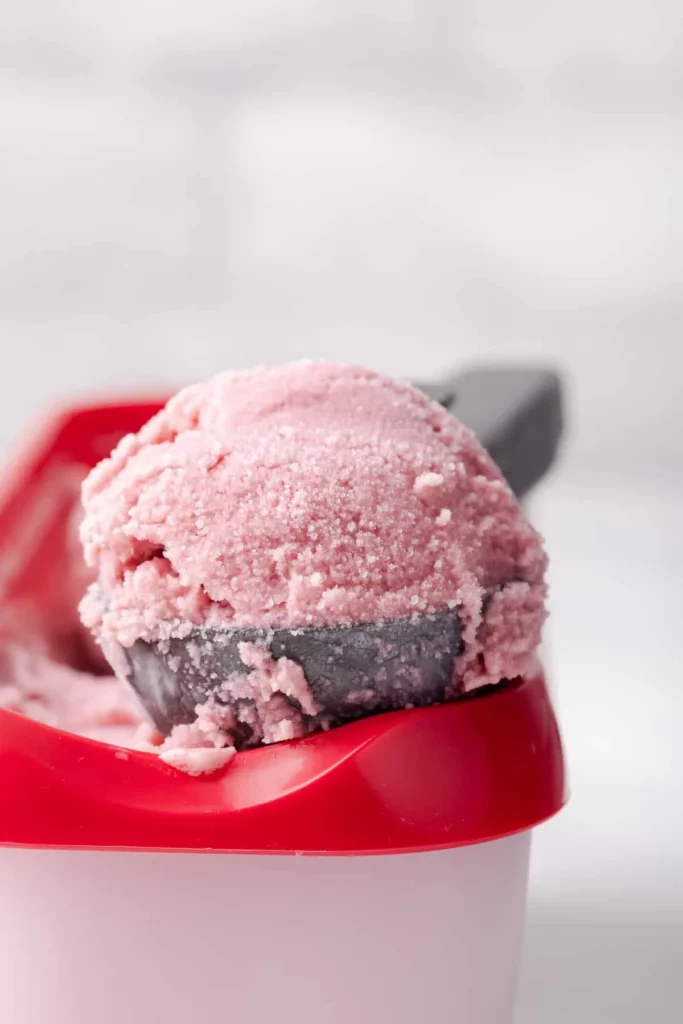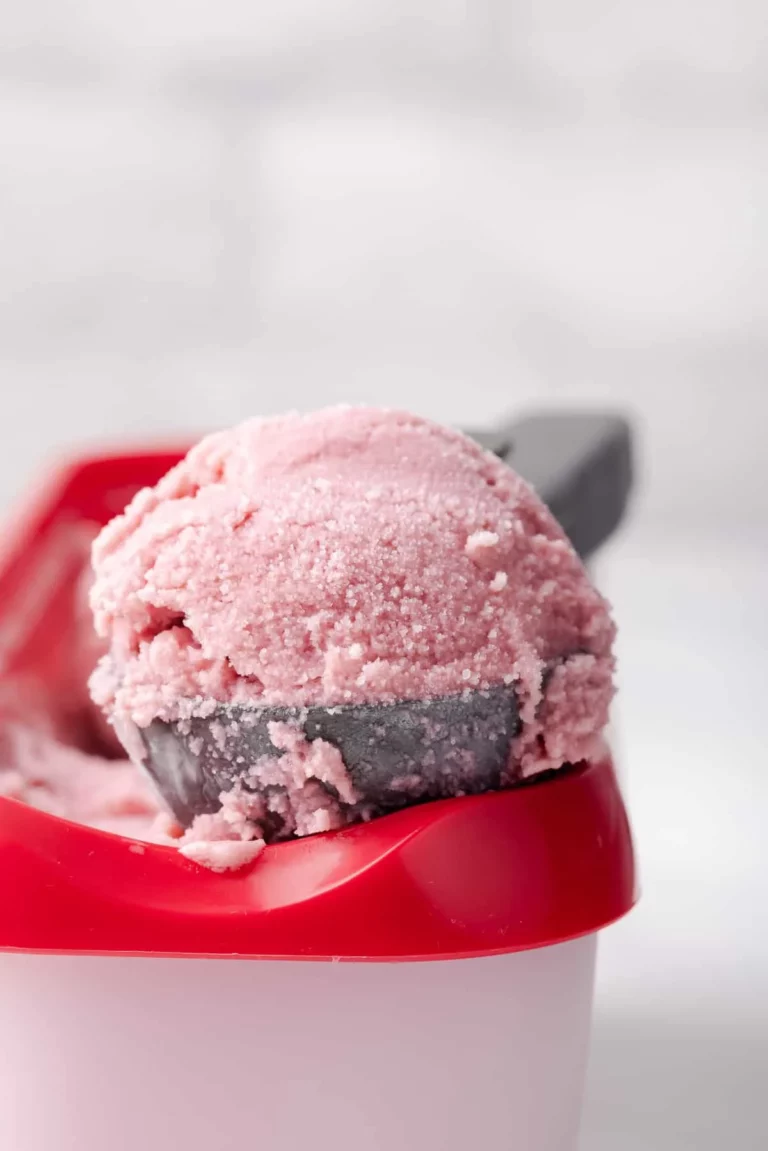 Ingredients:
4 cups (608 g) diced seedless watermelon
2 cups (480 g) pomegranate juice
2/3 cup (200 g) sweetened condensed milk
Instructions:
1. Line a rimmed baking tray with parchment paper. Spread the cubed watermelon in a single layer on the baking sheet.
2. Pour the pomegranate juice into an ice cube tray, filling the cavities only half full.
3. Place the tray of watermelon and pomegranate juice in the freezer and freeze until firm, about 2 hours or overnight.
4. Combine the frozen watermelon, pomegranate juice, and sweetened condensed milk in a food processor or powerful blender. Process until completely smooth and creamy. You may need to add it in batches, pulsing between each addition until everything fits.
5. Transfer the mixture to a freezer-safe container. Place a piece of plastic wrap over the top, ensuring it touches the surface. Cover with a tight-fitting lid and freeze for about 4 hours or until firm enough to scoop.
6. Enjoy your refreshing watermelon and pomegranate frozen treat!
---
Watermelon Rind Relish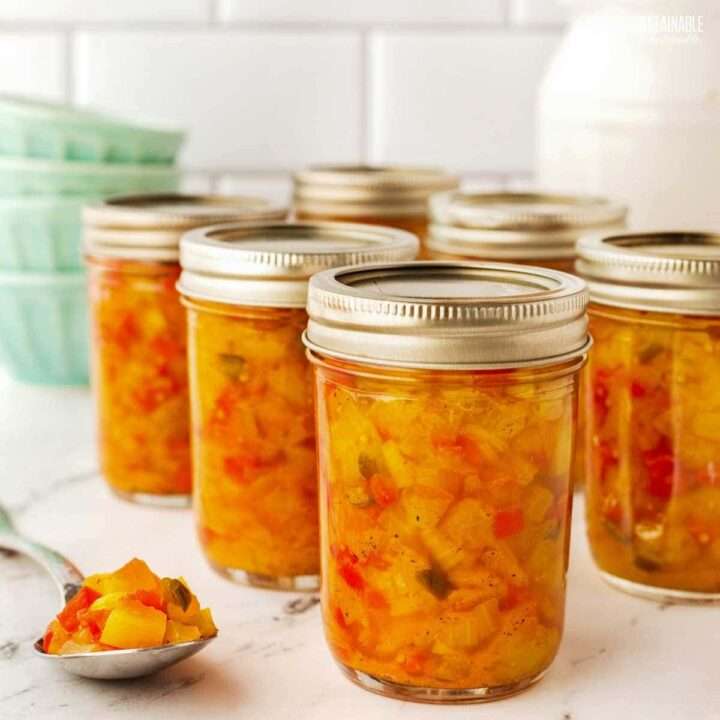 Ingredients:
4 cups chopped watermelon rind, dark green outer skin removed
2 cups onion, finely chopped
1 red bell pepper, seeded and diced
1 jalapeno pepper, chopped
1 1/2 teaspoons sea salt
1 1/2 cups granulated sugar
1 1/2 cups vinegar
1 1/2 teaspoons ground turmeric
2 teaspoons mustard seeds
1/2 teaspoon pepper
Pinch nutmeg
Instructions:
Make the Relish:
1. If you have a food processor, pulse the watermelon rind, onions, and peppers until they are in small pieces (about 1/8 – 1/4″ size). If not, finely chop them by hand.
2. Combine watermelon rind, onion, peppers, and salt in a large bowl, stirring well. Chill overnight.
3. Place in a colander to drain, rinse thoroughly, and drain again.
4. Transfer to a large stockpot and add remaining ingredients. Bring just to a boil, then simmer for 10 minutes. The relish is now ready to be put in jars and refrigerated or given as gifts.
---
Spiced Halloumi And Watermelon Skewers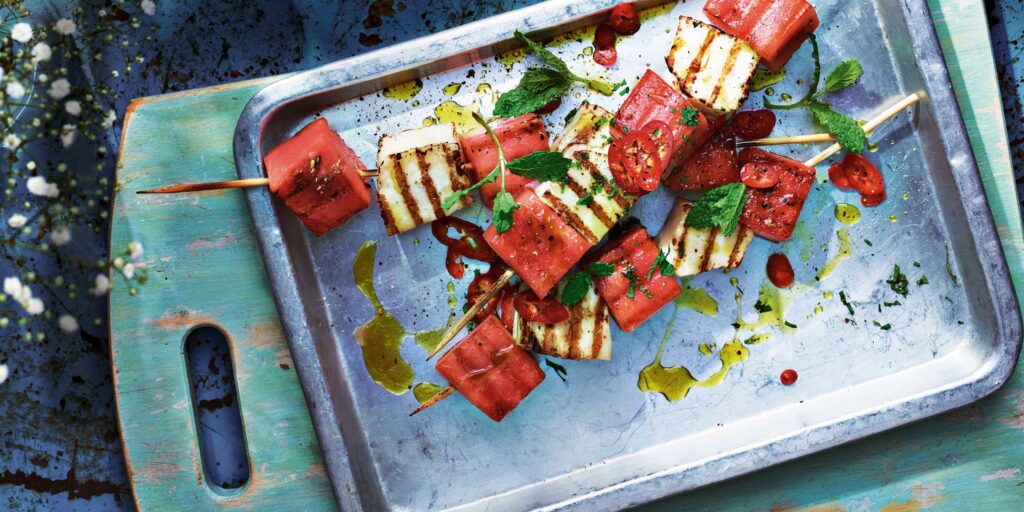 | Ingredients: | |
| --- | --- |
| 2 x 250g blocks halloumi | |
| 1 small watermelon | |
| 1 tsp ground coriander | |
| 1 tsp sumac | |
| 1/2 tsp ground cinnamon | |
| 1 tsp cayenne pepper | |
| 1 tsp black peppercorns | ground |
Method:
Step 1:
– Soak 16 wooden skewers
in cold water for 30 minutes or use metal skewers.
Step 2:
– Break each block of halloumi along its natural split, then slice each 1/2 into good-sized chunks.
– Cut the watermelon into equal-sized pieces.
– Alternately thread the halloumi and watermelon onto the skewers.
– In a small bowl, mix together the spices with a good pinch of salt, then sprinkle all over the skewers, pressing to stick.
Step 3:
– Heat a griddle pan over medium-high heat or cook over indirect heat on a BBQ.
– Grill the skewers for 2-3 minutes on each side or until charred and the halloumi starts to soften.
– Serve and enjoy these flavorful halloumi and watermelon skewers.
---
Watermelon Doughnuts
| For the Doughnuts: | |
| --- | --- |
| 1 1/2 cups flour | |
| 2 teaspoons baking powder | |
| 1/4 teaspoon baking soda | |
| 1/4 teaspoon salt | |
| 3/4 cup coconut milk | |
| 1 teaspoon apple cider vinegar | |
| 6-8 drops of liquid watermelon-flavored stevia | |
| 3 tablespoons melted coconut oil | |
| 1 teaspoon pure vanilla extract | |
| 1/2 teaspoon pure almond extract | |
For the Dragon Fruit Glaze:
1/3 cup frozen dragon fruit, thawed
1 1/2 cups powdered sugar
1/4 teaspoon pure vanilla extract
2 drops watermelon-flavored stevia
---
Creamy Watermelon Coconut Milkshake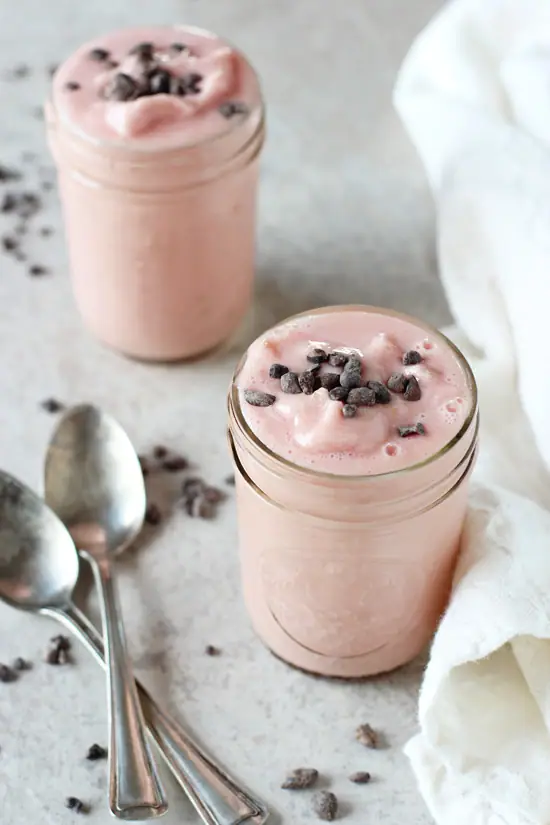 | INGREDIENTS: | |
| --- | --- |
| 1 1/2 cups cubed (1-inch chunks) seedless watermelon, frozen | |
| 1 cup coconut milk | |
| 1 tablespoon pure maple syrup (or to taste) | |
| 1 teaspoon vanilla extract | |
| Unsweetened coconut flakes, cacao nibs, or chocolate chips, for garnish | |
INSTRUCTIONS:
1. Add the frozen watermelon, coconut milk, maple syrup, and vanilla extract to a blender. Process until smooth but still thick. If needed, add an extra splash of coconut milk to the blender to get it going, but try to avoid adding too much extra!
2. Serve immediately, topped with the coconut flakes or chocolate (if desired).
| | |
| --- | --- |
| Ingredients: | |
| 4 cups cubed seedless watermelon | |
| 1/4 cup fresh lime juice | |
| 2 tablespoons honey or agave syrup | |
| 4 cups cold water | |
| Ice cubes (optional) | |
| Fresh mint leaves for garnish (optional) | |
1. In a blender, combine the cubed watermelon, fresh lime juice, and honey or agave syrup. Blend until smooth.
2. Strain the mixture through a fine-mesh sieve into a pitcher to remove any pulp.
3. Add cold water to the pitcher and stir well to combine.
4. Refrigerate the agua fresca for at least 1-2 hours to chill.
5. Serve over ice cubes, garnished with fresh mint leaves if desired.
What are your favourite recipes? Be sure to share them with me, and I'll pin them on my Pinterest!